The Office of Veterans Affairs and Military Programs hosts several events in support of our UCONN veteran and military population as well as events to recognize the sacrifices service members have made regardless of their affiliation to the University.  Though our schedule of events various year to year, our office always hosts two primary events, in conjunction with other departments, in support of our veteran and military population.
The first is the Military Appreciation Day Football Game held annually at a Fall home game of the UCONN Huskies at Rentschler stadium in East Hartford.  Here, our office works with UConn Athletics and Student Activities to bring in a football field sized Super Flag and honor our service members through a pre-game national anthem ceremony and a half-time veterans parade on the field.  Veterans, members of the military, their dependents, and the greater community are invited to carry the flag onto the field and furlough it to a national audience.  These volunteers are also provided free admission to the game and are invited to a pre-game mixer with our office.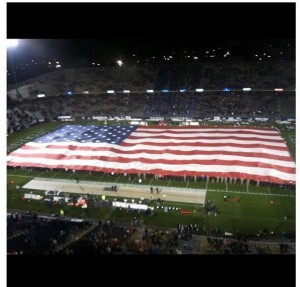 Video of the Superflag on Sept. 26, 2015
Video on Instagram of the Superflag on 9/26/2015
Another is the Veterans Day ceremony held at The Ultimate Sacrifice Memorial on the great lawn.  This annual ceremony honors the service and sacrifice made by members of the military that have died during times of war and involves a joint color guard by our two resident ROTC detachments, a placing of the wreath by student veterans, and respectful comments by guest speakers.  The entire community is welcome to attend.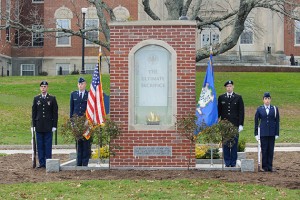 Articles on the  November 2015 Veterans Day Ceremony:
You can view President Herbst's remarks here from the Veterans Day Ceremony on November 10th, 2014 at UConn.  You can also view the video from UConn Today for the 2014 UConn Veterans Day Ceremony.
You can also read about some of the past veterans events at the university from the following articles on UCONN Today:
Connecticut Veterans Wartime Service Medal Ceremony
Ultimate Sacrifice Memorial dedicated
UCONN ROTC Cadets 2nd in Army 10 miler
UCONN Roll of Honor goes online