Storrs Veterans Oasis – located in the Student Union Rm. 224
Created in 2012, the Veterans Oasis in the Student Union serves as the primary social lounge for our veteran population looking for a space on campus to relax in-between classes.  Featuring cable TV, public access computers, a Keurig, and ample seating the Oasis will remain the prime gathering place of student veterans at UConn.  Originally conceived by a group of women's clubs that have funded and created these spaces at colleges across the state. the Veterans Oasis here at Storrs has been designed to offer a haven for veterans and service members who are looking for an area to unwind among people with similar experiences.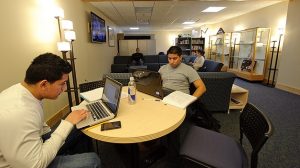 We encourage you to stop by either this location in the Student Union or the Kyle Milliken Lounge and study spaces in Hawley Armory (North End of the building).
Veterans Lounges at the Regional Campuses:
Since so many students in the Veterans Community attend the Regional Campuses, each campus hosts an Oasis (Veterans Lounge).  Below is a list of those locations, by campus.
Avery Point:  2nd floor, Library
Hartford:  Rm. 207, Hartford Time Bldg.
Law School (VALOR Bunker):  Hosmer Hall Basement
Stamford: Rm. 141, Main Building
Waterbury: Rm. 109, Main Building